Maximize your philanthropic goals
Make a difference in people's lives and always be remembered for your contribution

Benefit yourself, your family and University of North Carolina with your planned gift

Help us fulfill our mission for many years and generations to come
Gift Annuity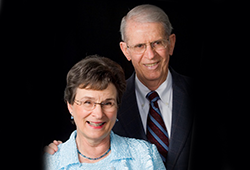 For Rossie Henley Lindsay '63, UNCG was a family affair. "I was born in Kinston, NC, but grew up on a farm in Chatham County," she said. "I always assumed I would attend Woman's College because my mother, aunts and several cousins were alumnae. It also had the best School of Home Economics, my intended major."

After graduation and marriage, Lindsay chose to be a full-time homemaker. Her skills in home management and personal finance, nutrition, sewing and design benefited family and community. When her husband, Cleaton, made a gift to his alma mater—the University of North Carolina at Chapel Hill—he wanted Rossie to do the same.

"Our gift annuity has kept us connected with UNCG and has afforded us the opportunity to meet the students who have benefited from it. It has also provided an excellent return, which has been helpful in our retirement."

As her gift annuity generates an income stream, it grows to eventually to provide funds for a graduate student in nutrition. "We did not feel we were in a position to make an outright gift in the amount we gave," said Lindsey. "But since so many graduate students live on a shoestring, I also make an extra gift to the spending account each year so they derive some benefit from it."

How It Works

In exchange for your gift, UNCG agrees by contract to pay you (the annuitant) a fixed amount each year. The amount of the annuity payment will depend on your age and the value of the assets donated. Upon your death, the agreement terminates and the remainder funds your gift.

Benefits
Receive fixed annual payments for life.
Possibly receive tax-free income.
Receive federal, and possibly state, income tax charitable deductions.
Reduce or eliminate estate taxes.
Contribute to UNCG's teaching, research and service in perpetuity.
If you let UNCG know of your plans, we will be able to thank you now and recognize you as a member of our Unbroken Band Society.
This information is not intended as tax, legal or financial advice. Gift results may vary. Consult your personal financial advisor for information specific to your situation.
Find Out More
Planned gifts are as uniquely individual as the people who make them. To find out if a gift annuity or another planned gift opportunity with UNCG (or any of the UNC system institutions) is right for you, please contact:
David Landers, J.D.
University of North Carolina at Greensboro
giftplan@uncg.edu
(336) 256-1277
OR
Kinna N. Clark, Esq.
Director of Gift Planning Services
The University of North Carolina System
140 Friday Center Drive
Chapel Hill, NC 27517
(919) 843-4703
knclark@northcarolina.edu