Maximize your philanthropic goals
Make a difference in people's lives and always be remembered for your contribution

Benefit yourself, your family and University of North Carolina with your planned gift

Help us fulfill our mission for many years and generations to come
Life Insurance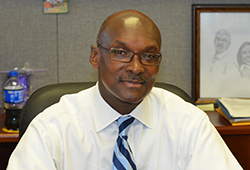 Lamanda "Michelle" Reid completed her bachelor's degree in social work at the University of North Carolina at Greensboro, and wanted more. Encouraged by her father to work hard and pursue her dreams, she enrolled in East Carolina University's two-year master's degree program in social work. Her first year behind her, she was actively involved in the Graduate Association of Social Workers, an organization that supports social work students and provides community outreach services. Her future looked bright on Friday, July 15, 2011 as she drove to visit a friend in Charlotte, N.C., until a minor fender-bender waylaid her plans. As Michelle waited on the roadside for help to arrive, she was fatally struck by a passing car.

His daughter's promising life cut short, her career in service to others upended, Morris Reid knew he wanted – and needed – to make a difference in the lives of others, just as Michelle would have done. He explored his options and decided to take out a life insurance policy that upon his death will endow the Lamanda Michelle Reid Gerontology Scholarship in East Carolina's College of Human Ecology. He also makes annual scholarship gifts to the fund that allows him to meet current students benefitting in Michelle's name. "Each is so thankful for being selected to receive funding in Michelle's honor," he said.

Knowing Michelle's memory will be honored in perpetuity brings comfort to Reid and his family. "I am proud and happy to help a student in need pursue his or her dream of becoming a social worker specializing in gerontology," he said. He also encourages anyone who is thinking about making a gift to do so. "You will be amazed at the difference your gift will make in the lives of those who are selected to receive it."

How It Works

A bequest is a gift from your estate—a transfer of cash, securities or other property made through your estate plans. You can make a bequest to East Carolina University by including language in your will or living trust, or by designating East Carolina University as a beneficiary of a life insurance policy or retirement account.

Benefits
A bequest costs nothing now, yet gives you the satisfaction of knowing you have provided for East Carolina University in the future.
You retain control of and use of your assets during your lifetime.
You may modify your bequest if your circumstances change.
Gifts from your estate to East Carolina University are exempt from federal estate taxes.
If you let East Carolina University know of your plans, we will be able to thank you now and recognize you as a member of our Leo W. Jenkins Society.
This information is not intended as tax, legal or financial advice. Gift results may vary. Consult your personal financial advisor for information specific to your situation.
Find Out More
Planned gifts are as uniquely individual as the people who make them. To find out if a bequest or another planned gift opportunity with East Carolina University (or any of the UNC system institutions) is right for you, please contact: Greg Abeyounis
Associate Vice Chancellor for Development
East Carolina University
abeyounisg@ecu.edu
(252) 328-9573
OR
Steve Watt
Director of Gift Planning
University of North Carolina
General Administration
srwatt@northcarolina.edu
(919) 843-6780