Maximize your philanthropic goals
Make a difference in people's lives and always be remembered for your contribution

Benefit yourself, your family and University of North Carolina with your planned gift

Help us fulfill our mission for many years and generations to come
Bequest — Roth IRA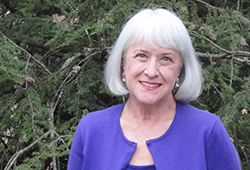 Patricia's connection to public television grew over her lifetime. Born in New York and reared primarily in Kentucky before moving to North Carolina in 1970, she holds degrees in math, chemistry, counseling psychology and education administration. She devoted her career to education and found public television programming — both for children and adults — a reliable and ever-ready resource. "It was a comfort to know that public television offered information and learning resources to all takers of all ages, every day of the year," she said.

In addition to the educational component, public television also brought enrichment and entertainment to Patricia's life. "There comes a time in your life when you assess what has been important to you, what has made a difference in your life…people, places, experiences," she said. "You think about what has influenced, pleased and assisted you in your life. Then you think about how you can pay that forward to ensure that the same opportunities are available for new generations."

When it came time for Patricia to plan for the future, her decision to include UNC-TV as a beneficiary was an easy one. "Listing a nonprofit as a beneficiary is easy, revocable if desired, and funnels the money directly to UNC-TV at my death. I wanted to make a difference in the future. Helping to ensure that UNC-TV programming will continue to be available to all North Carolinians for years to come is a great way to do just that."

How It Works

A bequest is a gift from your estate—a transfer of cash, securities or other property made through your estate plans. You can make a bequest to UNC-TV by including language in your will or living trust, or by designating UNC-TV as a beneficiary of your retirement account or life insurance policy.

Benefits
A bequest costs nothing now, yet gives you the satisfaction of knowing you have provided for UNC-TV in the future.
You retain control of and use of your assets during your lifetime.
You may modify your bequest if your circumstances change.
Gifts from your estate to UNC-TV are exempt from federal estate taxes.
If you let UNC-TV know of your plans, we will be able to thank you now and recognize you as a member of our Legacy Society.
This information is not intended as tax, legal or financial advice. Gift results may vary. Consult your personal financial advisor for information specific to your situation.
Find Out More
Planned gifts are as uniquely individual as the people who make them. To find out if a bequest or another planned gift opportunity with UNC-TV (or any of the UNC system institutions) is right for you, please contact:
Caroline Francis
giftplanning@unctv.org
Phone: (877) 485-3200
OR
Kinna N. Clark, Esq.
Director of Gift Planning Services
The University of North Carolina System
140 Friday Center Drive
Chapel Hill, NC 27517
(919) 843-4703
knclark@northcarolina.edu