Maximize your philanthropic goals
Make a difference in people's lives and always be remembered for your contribution

Benefit yourself, your family and University of North Carolina with your planned gift

Help us fulfill our mission for many years and generations to come
Bequest — Life Insurance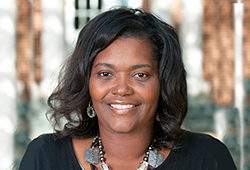 She's a young alumna who wants to make a difference, and youth isn't about to stop her. "It's important to give other students the opportunity to search out their dreams," said Rotunda Eaton, who graduated from Winston-Salem State University in 2011 with a master's degree in health administration. After exploring her options, she decided to fund life insurance policies benefitting her three alma maters: N.C. State University from where she earned her undergraduate degree; WSSU where she earned her MHA; and Gardner Webb University where she earned her MBA. It's likely the proceeds from Eaton's gifts will far exceed the cost of the premiums she pays.

"I just saw the need, and wanted to give a gift that would serve several people," Eaton said. Helping college students achieve their dreams is something she's been passionate about for years. She's worked for WSSU since 2004, first in Advancement as a fundraiser and now as assistant director of Business Services "I learned about this donation method and it was an option that really appealed to me as a way to give back." Eaton says her motivation to donate scholarship funds is to provide others with the educational opportunity she feels fortunate to have had. "So many people have the desire to go to school, but they just don't have the funds. Working at this institution and working with students, I especially see that need. And I know if you can contribute in any way, it is very possible to open up doors and provide life-changing opportunities for others."

How It Works

A gift of life insurance was accomplished by making Winston-Salem State University the owner of the insurance policy and designating WSSU as the sole beneficiary. If the policy still has remaining premium payments, the donor can make annual outright gifts to Winston-Salem State University and receive additional charitable income tax deductions.

Benefits
A gift of a life insurance policy gives you the satisfaction of knowing you have provided for Winston-Salem State University in the future.
You may receive a charitable income tax deduction for giving an existing life insurance policy.
You may make tax-deductible annual gifts so WSSU can make future premium payments.
Because WSSU owns the policy, the death benefit is not included in your estate and is exempt from federal estate taxes.
If you let WSSU know of your plans, we will be able to thank you now and recognize you as a member of our Heritage Society.
This information is not intended as tax, legal or financial advice. Gift results may vary. Consult your personal financial advisor for information specific to your situation.
Find Out More
Planned gifts are as uniquely individual as the people who make them. To find out if a life insurance or other planned gift opportunity with WSSU (or any of the UNC system institutions) is right for you, please contact:
Andrea Jenkins
Director of Development
Winston Salem State University
jenkinsam@wssu.edu
(336) 750-3114
OR
Steve Watt
Director of Gift Planning
The University of North Carolina
srwatt@northcarolina.edu
(919) 843-6780